Page 3 - Receptivo - Revista 2019
P. 3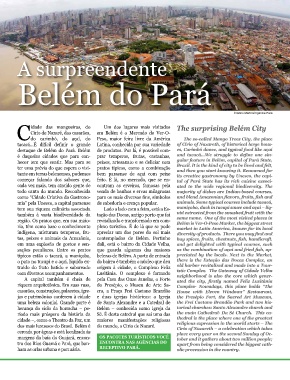 A surpreendente




        Belém do Pará






                                                                                                 Cristino Martins/Agência Pará


              idade das mangueiras, do      Um dos lugares mais visitados   The surprising Belém City
              Círio de Nazaré, dos casarões,   em Belém é o Mercado do Ver-O-
        Cdo carimbó, do açaí, do         Peso, maior feira livre da América   The so-called Mango Trees City, the place
        tacacá...É  difícil  definir  o  grande   Latina, conhecida por sua variedade   of Cirio of Nazareth, of historical large hous-
        destaque de Belém do Pará. Belém   de produtos. Por lá, é possível com-  es, Carimbó dance, and typical food like açaí
        é daquelas cidades  que para con-  prar temperos, frutas, castanhas,   and  tacacá...We  struggle  to  define  one  sin-
        hecer tem que sentir. Mas para se   peixes, artesanato e se deliciar com   gular feature in Belém, capital of Pará State,
                                                                          Brazil. It is the kind of city to be lived and felt,
        ter uma prévia do que espera o visi-  pratos típicos, como a combinação   and then you start knowing it. Renowned for
        tante em terras belenenses, podemos   bem paraense de açaí com peixe   its creative gastronomy by Unesco, the capi-
        começar falando dos sabores que,   frito. É lá, no mercado, que se en-  tal of Pará State has its rich cuisine associ-
        cada vez mais, tem atraído gente de   contram as erveiras, famosas pela   ated to the wide regional biodiversity. The
        todo canto do mundo. Reconhecida   venda de banhos e ervas milagrosas   majority of dishes are Indian-based courses,
        como "Cidade Criativa da Gastrono-  para os mais diversos fins, símbolos    and blend Amazonian flavors, fruits, fish and
        mia" pela Unesco, a capital paraense   de sabedoria e crença popular.   animals. Some typical courses include tacacá,
        tem sua riqueza culinária associada   Lado a lado com a feira, está a Es-  maniçoba, duck in tucupi sauce and açaí – liq-
        também à vasta biodiversidade da   tação das Docas, antigo porto que foi   uid extracted from the smashed fruit with the
                                                                          same name.  One of the most visited places in
        região. Os pratos que, em sua maio-  revitalizado e transformado em com-  Belém is Ver-O-Peso Market, the biggest street
        ria, têm como base o conhecimento   plexo turístico. É de lá que se pode   market in Latin America, known for its local
        indígena, misturam temperos, fru-  apreciar  um  dos  pores  do  sol  mais   diversity of products.  There you may find and
        tas, peixes e animais da Amazônia,   contemplados de Belém. Pertinho   buy spices, fruits, chestnuts, fish, handicraft,
        em uma explosão de gostos e sen-  dali, está o bairro da Cidade Velha,   and get delighted with typical courses, such
        sações peculiares. Entre os pratos   que guarda algumas das maiores   as the combination of açai and fried fish, ap-
        típicos estão o tacacá, a maniçoba,   belezas de Belém. A porta de entrada   preciated by the locals. Next to the Market,
        o pato no tucupi e o açaí, líquido ex-  do bairro é também o núcleo que deu   there is the Estação das Docas Complex, an
        traído do fruto batido e saboreado  origem à cidade, o Complexo Feliz   old harbor revitalized and made into a Tour-
                                                                          istic Complex.  The Gateway of Cidade Velha
        com diversos acompanhamentos.    Lusitânia. O complexo é formado   neighborhood is also the core which gener-
           A capital  também é cheia de   pela Casa das Onze Janelas, o Forte   ated  the  city,  firstly  named  Feliz  Lusitânia
        riqueza arquitetônica. Em suas ruas,   do Presépio, o Museu de Arte Sa-  Complex- Nowadays, this place holds "The
        casarões, construções, palacetes, igre-  cra, a Praça Frei Caetano Brandão   House with Eleven Windows" Restaurant,
        jas e patrimônios conferem à cidade   e duas igrejas históricas: a Igreja   the  Presépio  Fort,  the  Sacred  Art  Museum,
        uma beleza colonial. Grande parte é   de Santo Alexandre e a Catedral de   the Frei Caetano Brandão Park and two his-
        herança do ciclo da borracha – pe-  Belém – conhecida como Igreja da   torical churches: Santo Alexandre church and
        ríodo mais próspero da história da   Sé. É desta catedral que sai uma das   the main Cathedral- Da Sé Church.  This ca-
        cidade –, como o Theatro da Paz, um   maiores manifestações religiosas    thedral is the place where one of the greatest
                                                                          religious expression in the world starts – The
        dos mais luxuosos do Brasil. Belém é   do mundo, o Círio de Nazaré.  Cirio of Nazareth – a celebration which takes
        cercada por águas e está localizada às                            place every year on the second Sunday of Oc-
        margens da baía do Guajará, encon-  OS PACOTES TURÍSTICOS VOCÊ    tober and it gathers about two million people;
        tro dos Rios Guamá e Pará, que ban-  ENCONTRA NAS AGÊNCIAS DO     apart from being considered the biggest cath-
        ham as orlas urbana e portuária.   RECEPTIVO PARÁ.                olic procession in the country.